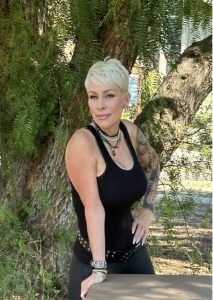 Sloan Bella
was born with Psychic-Mediumship abilities, as well as being a technically trained Astrologer, a modern day "Metaphysician" who also happens to be the mother of 2 boys and GiGi to 2 lovely girls. Strong authentic, gifted, intense and compassionate.  Sloan is a published author  and TV Personality, and a YouTube channel who has been working professionally with clients for the past 38 years.
 "It was extraordinary–and still surprises me to this day that the human spirit knows no boundaries".
I learned this when my youngest son Keith was killed on his motorcycle in July 29th of 2020 in Chatsworth Ca.
Sloan was adopted into a well-established and business-minded family which allowed her temporary stability while exploring the paranormal world that was exploding into her existence. By the age of 4 Sloan learned to articulate nightly visits by other worldly beings and the spirits of those people who had crossed over. This was how she began to develop her ability to act as a conduit and to speak the different frequencies that exist around us.
Astrology was introduced to Sloan via a charm necklace from a cousin in England, by the age of seven, and her lifelong passion for astrology began. Sloan's world expanded and became enmeshed with metaphysical information on all psychic levels. Naturally rebellious and un- apologetic for her experiences caused even more tension within an already extremely difficult childhood.  At 14, Sloan ran away from home and ended up on the streets, the homeless teen found herself in the strip clubs where she stayed for 10 years.
"Life experience and the way we continue to pattern our thoughts and beliefs force us to deal with the blocks and traumas that need to be released in order to find our potential on a soul level".
"We aren't really here to play we all have work to do a purpose"
Sloan began her career on the streets of Toronto, Canada, working with missing and exploited children.  By the age of seventeen, Sloan was established as a professional Psychic-Medium, while deeply entrenched in the street, music vibe, while reading for everyone from Gregory Hines to Don Adams along with a large clientele which included, street kid's and run away teenagers, teachers, musicians, businessmen, actors, strippers, Congressmen, housewives, athletes and anyone who needed help. Sloan's abilities at one point were even sought after by the head of a major crime family.